16.03.2009
Kota Kinabalu, Sandakan & Hong Kong Visit 2009
KOTA KINABALU - MALAYSIA
Our friend and distributor in Kota Kinabalu, Sabah, Andy Lim, in his shop situated just across the road from the main entrance to the Royal Sabah Turf Club.
The Royal Sabah Turf Club at Tanjung Aru, Kota Kinabalu was founded back in 1898 & races both Saturdays & Sundays.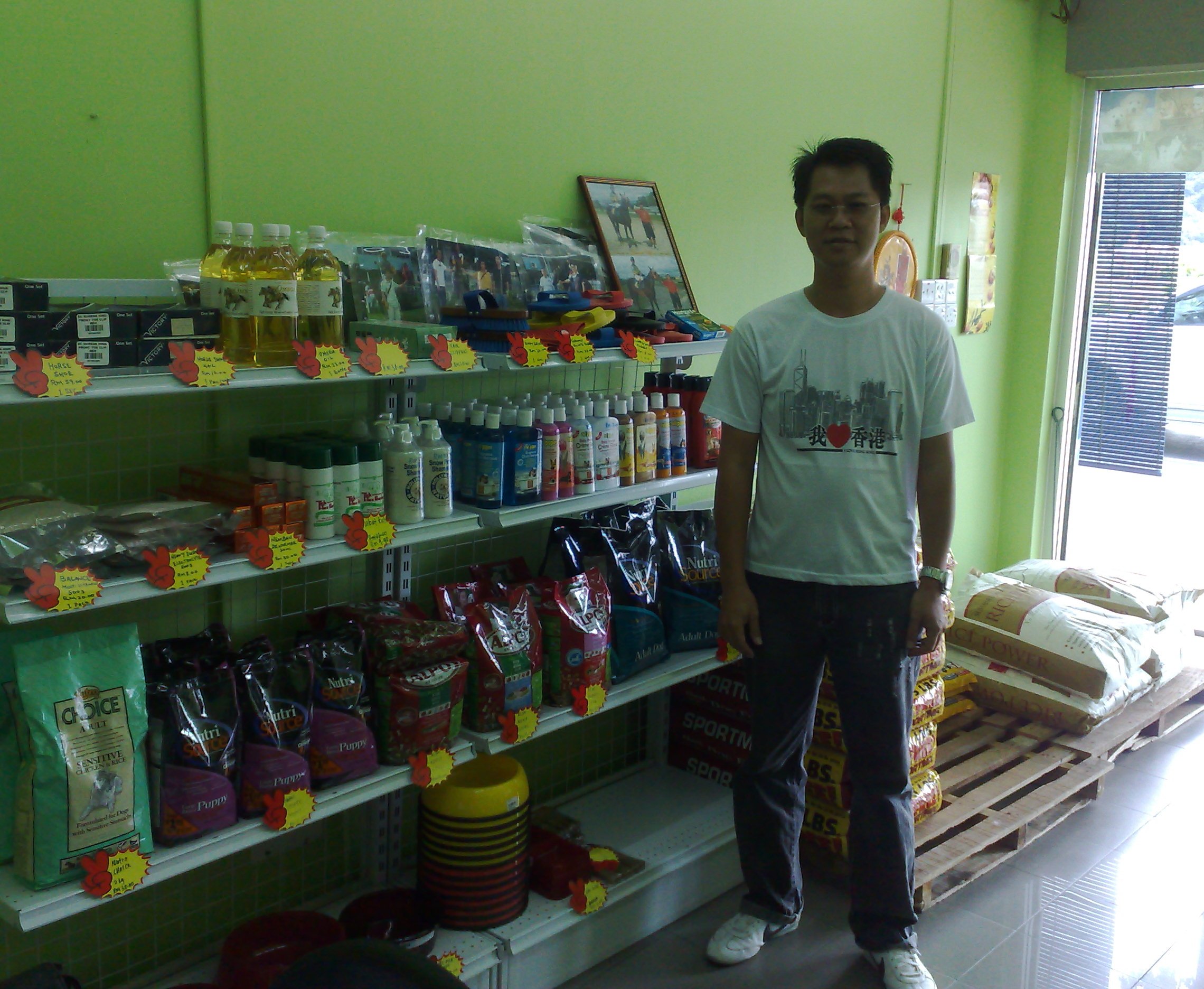 The Lim Family's Brisbond returning to Scale after completing his Second Win for the day at Royal Sabah Turf Club, Kota Kinabalu on Saturday 28th February.
Carrying 57kgs in the Class 7 Division 2 event over approximately 1000metres Brisbond came from the outside barrier to score comfortably. Two hours later carrying 57kgs again but this time over 1300metres he duly saluted again.
Fed on Performa Racehorse & Performa Extruded Rice Power and using Vetplus Supplements – Heavy Sweat Electrolyte, Balance Multi Vitamin & Omega Race Oil Energy Supplement, Andy and his family's Stable are competing very success fully in Kota Kinabalu.
Andy can be contacted in KK @ 016-830 2383 or 016-845 9178 for a selected range of Vetplus products and at Tuaran on 08-8787 226.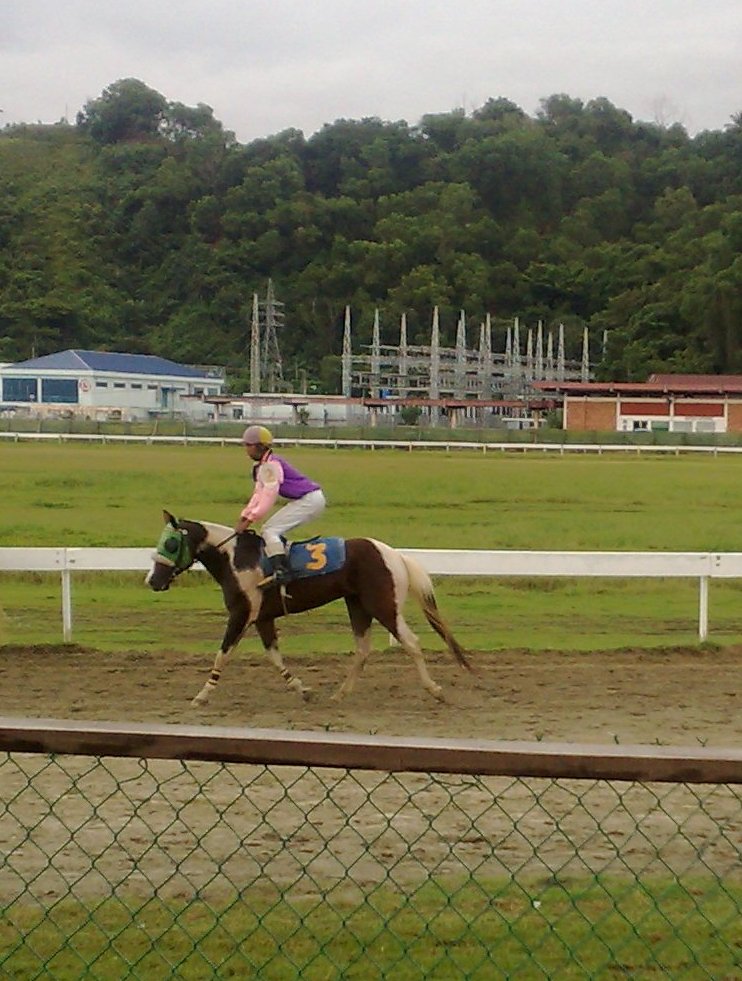 Most transporting of horses is done around the World by Floats specially designed for horses. This ingenious method employed by Stables in Kota Kinabalu can double the number of horses floated by simply putting them on the back of the Flat Bed Truck.
It's certainly one way to cut down on Fuel Consumption!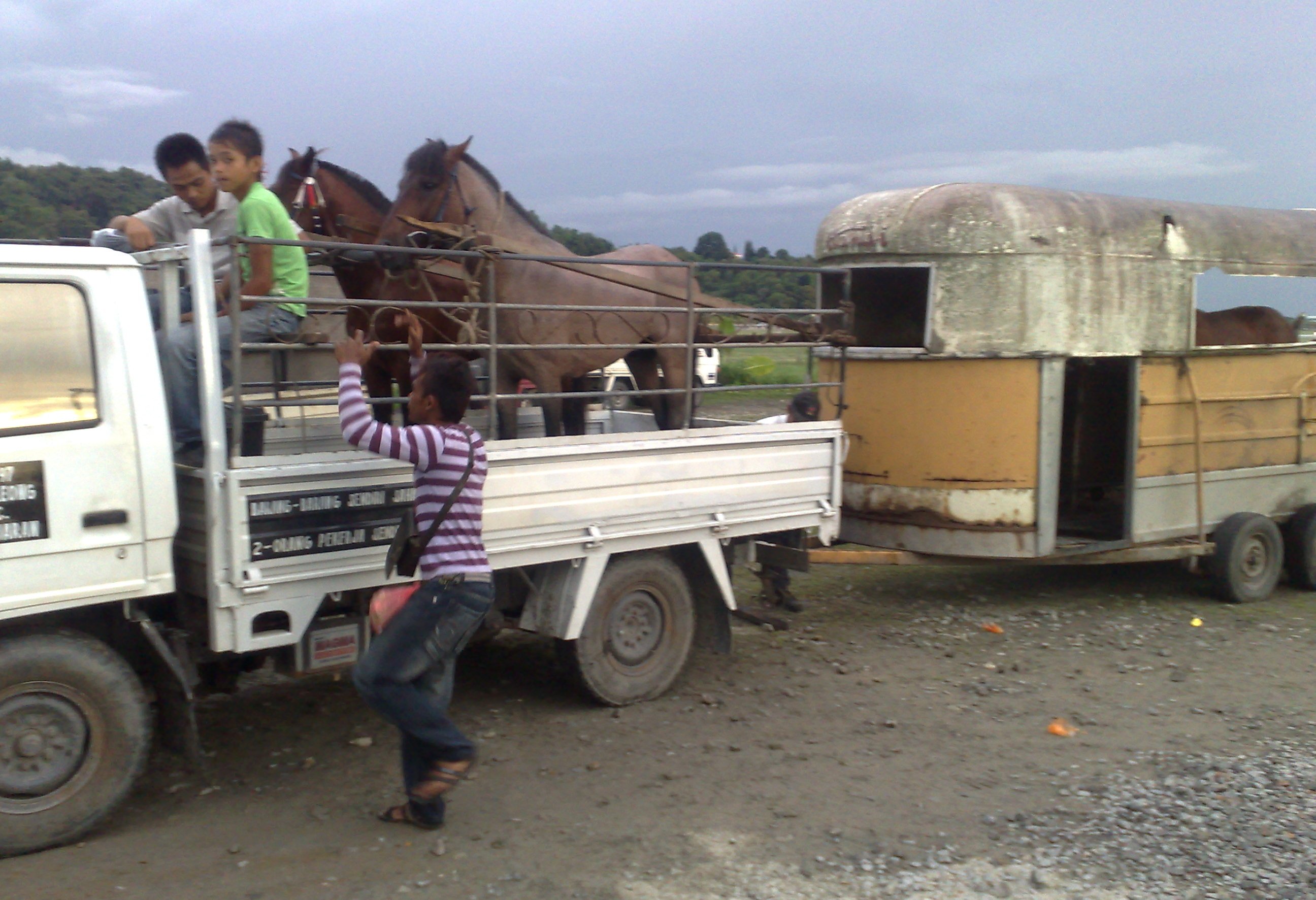 Stables complex at Tuaran Racecourse where about 100 ponies and half-breds are stabled. (See below)

The Grandstand at Tuaran is not used at present but the next 12-24 months could see this project re-inventing itself. (See below)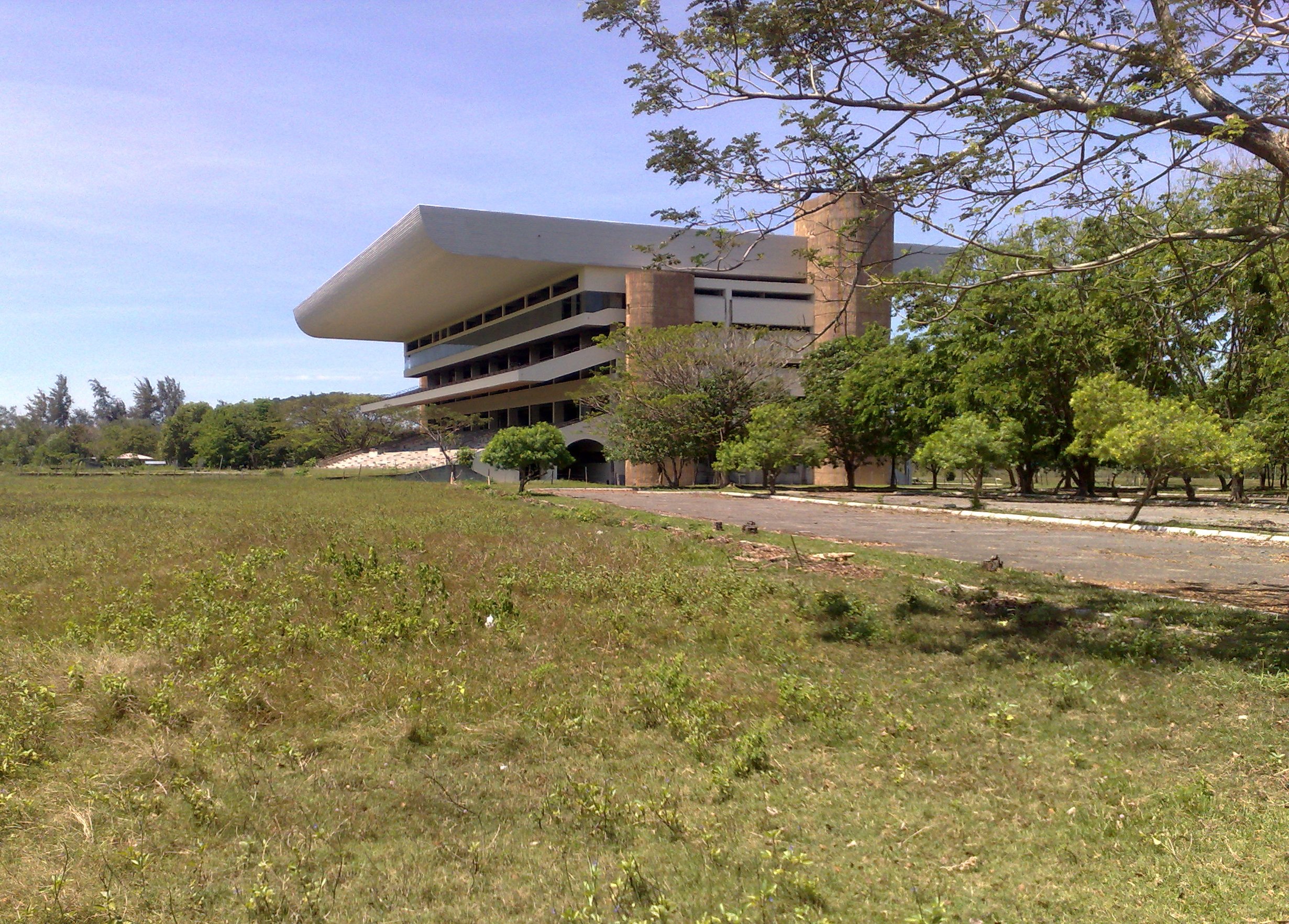 The tracks at Tuaran blend in the background in this shot awaiting the thunderous hooves of Race Days again! (See below)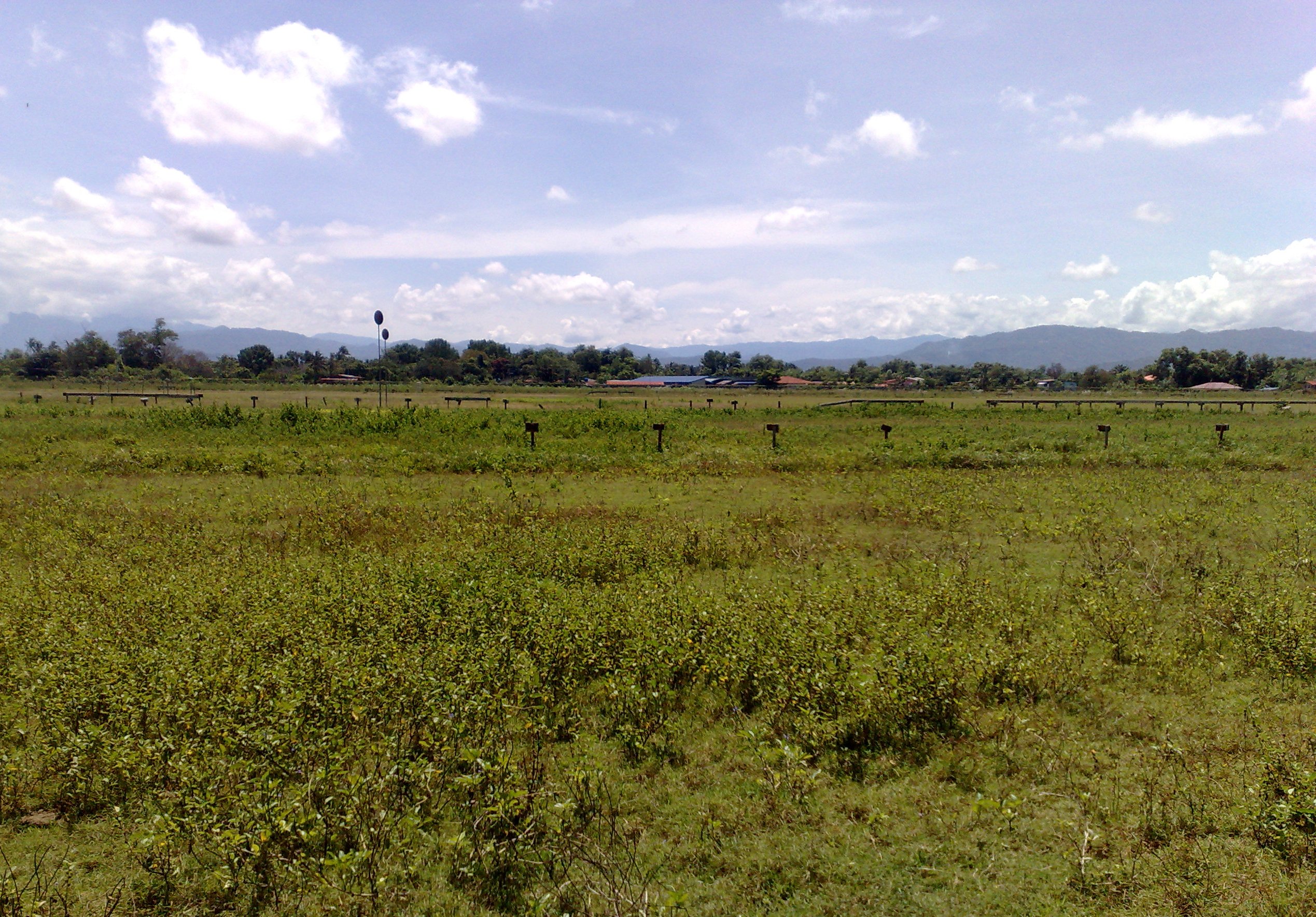 Will it happen? There's talk it could and for Racing in Sabah's sake let's hope it does. It would provide a great tourist attraction.
Dragon Affair, one of the stallions we viewed that's only just recently arrived in Sabah. A well built, costly import to Hong Kong from France he found his way to Sabah via Singapore and Malaysia. Crossed with the Pony Mares that mainly stand in Sabah, he should be able to instill some great genetic blood lines into the Breeding scene in the region.
For services to this stallion contact Mr. Andy Lim at 016- 890 2383.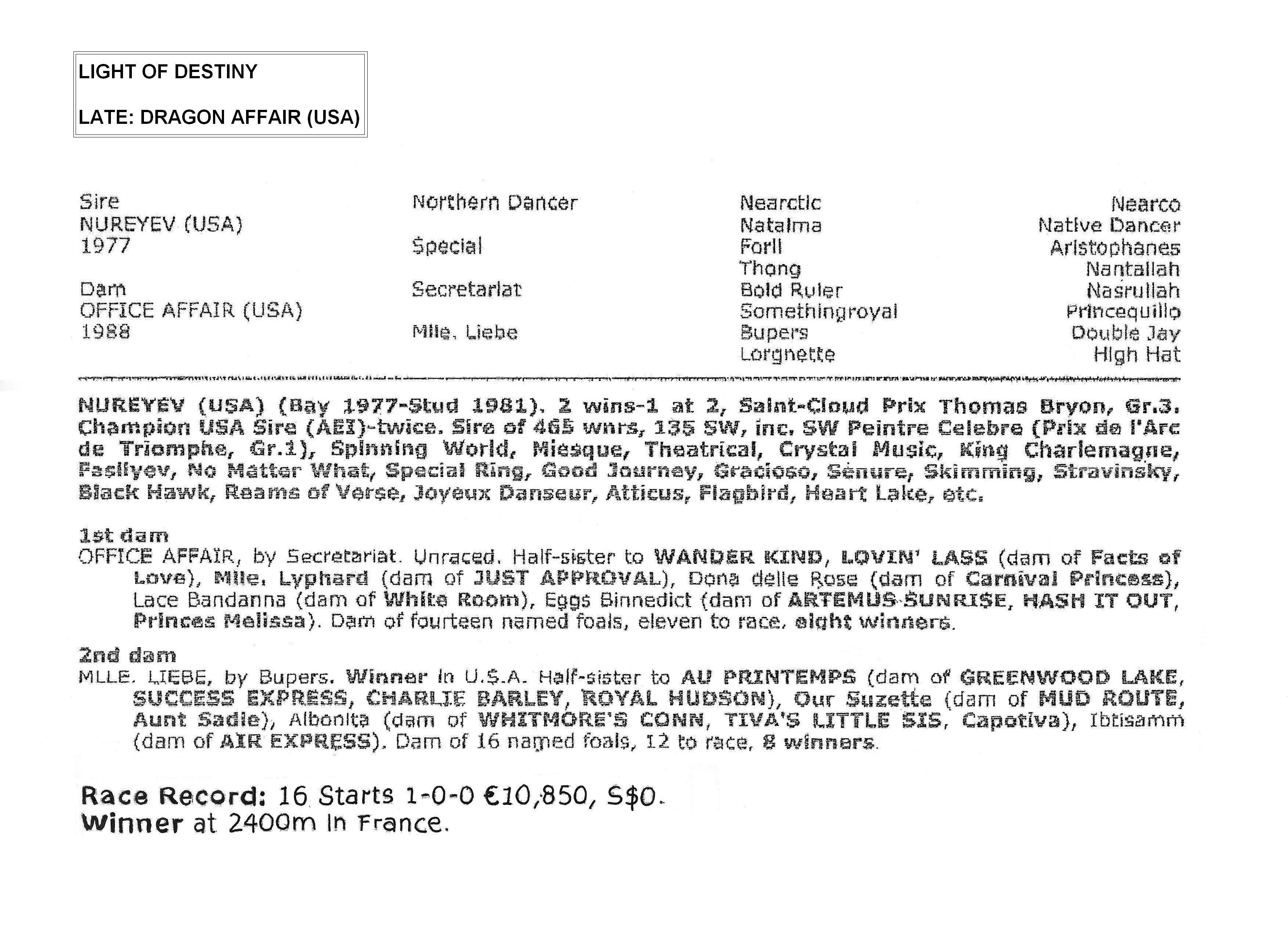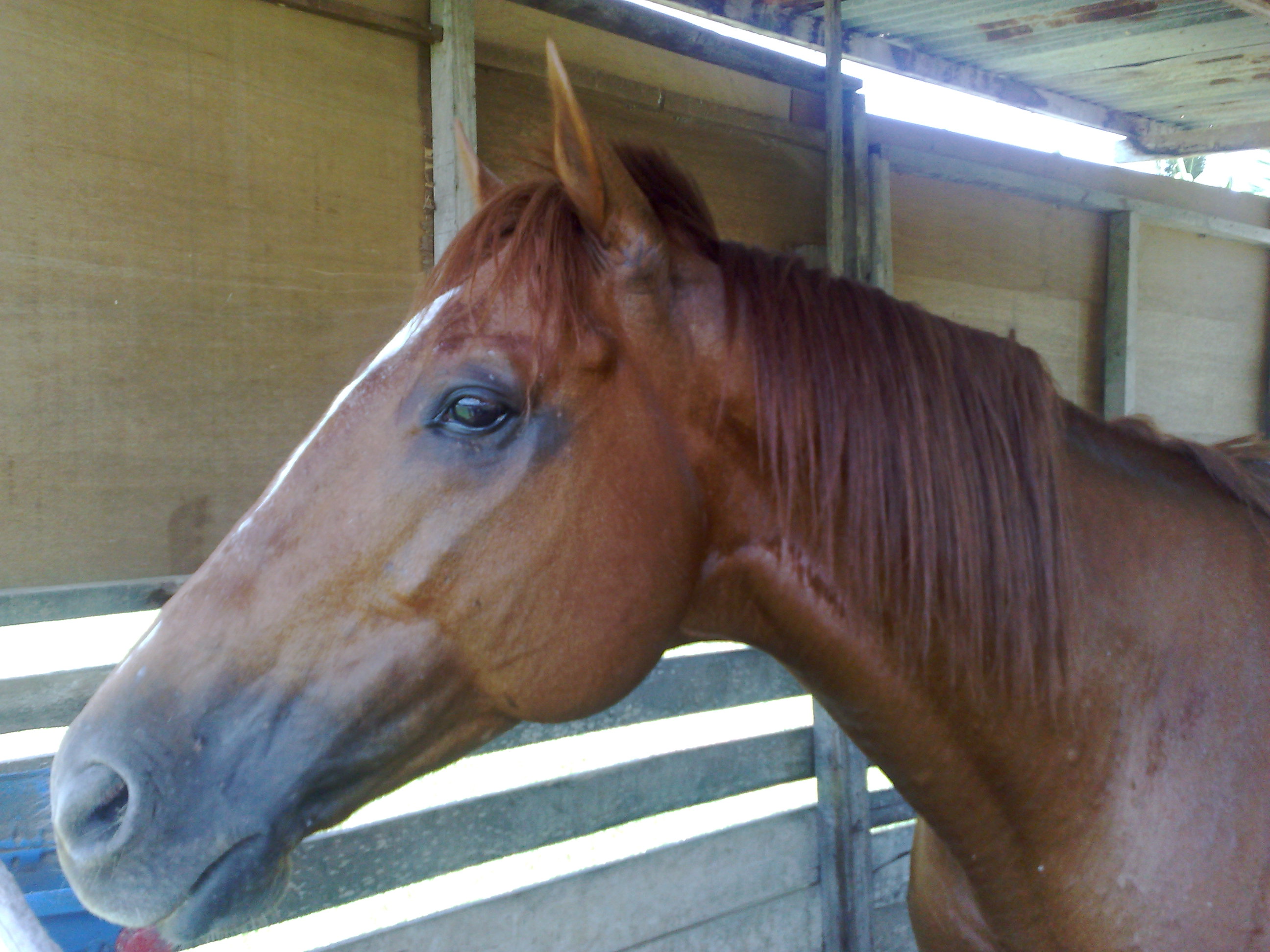 Situated near Kinarut, 15minutes from Kota Kinabalu, Mr. Peter Cantwell's Langkah Syabas Beach Resort, Bar & Restaurant is one of the hidden "gems" of the region.
Here we see some of Peter's Ponies grazing in front of their stables. (See below)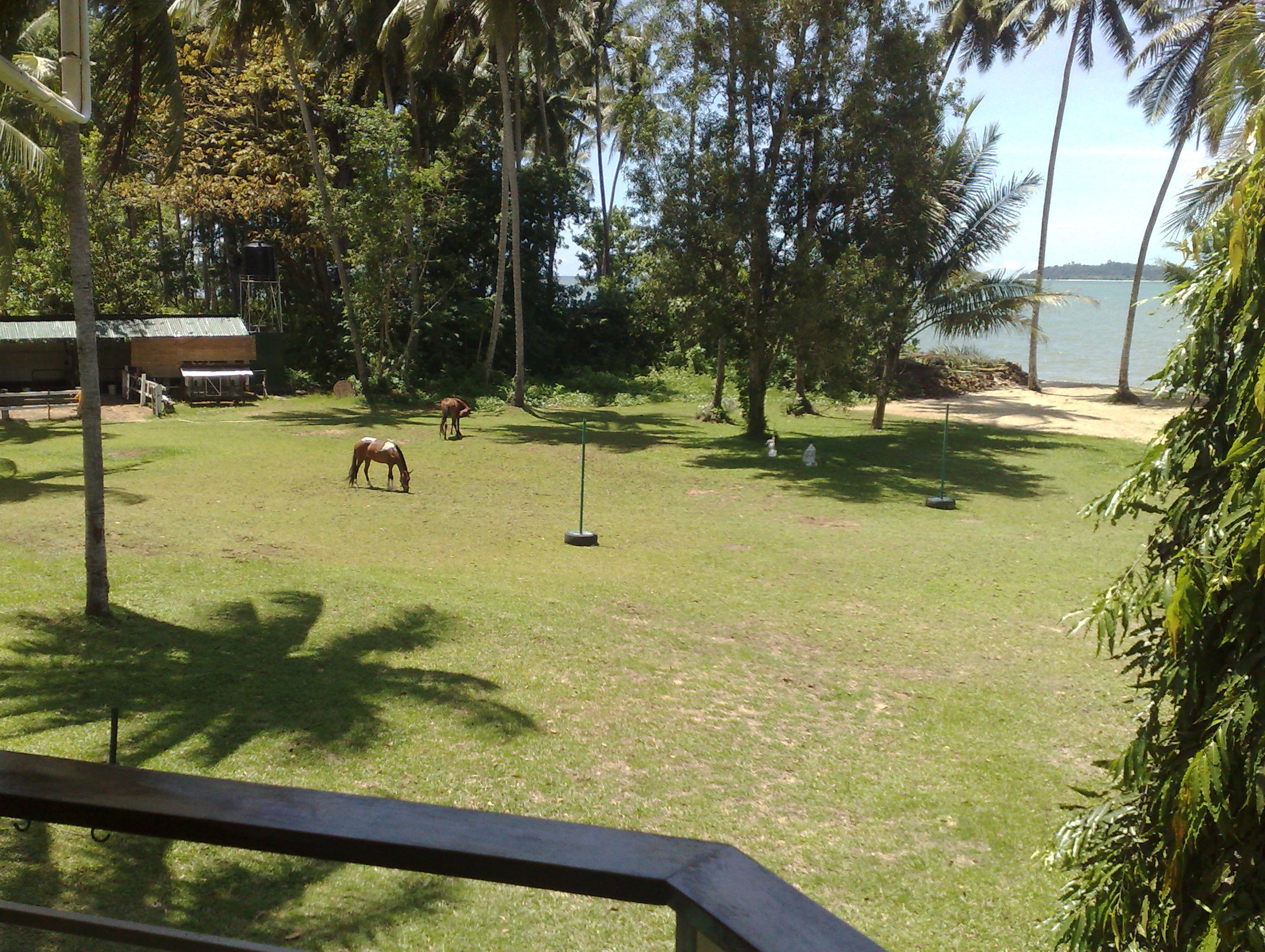 With the back drop of the Pristine Sea Golden Beaches and Blue Skies this is one of our favorite Hotel Hideaways in Tanjung Aru, Sabah.
Their telephone number +6 0-88 752 000 or email: langkahsyabas@myjaring.net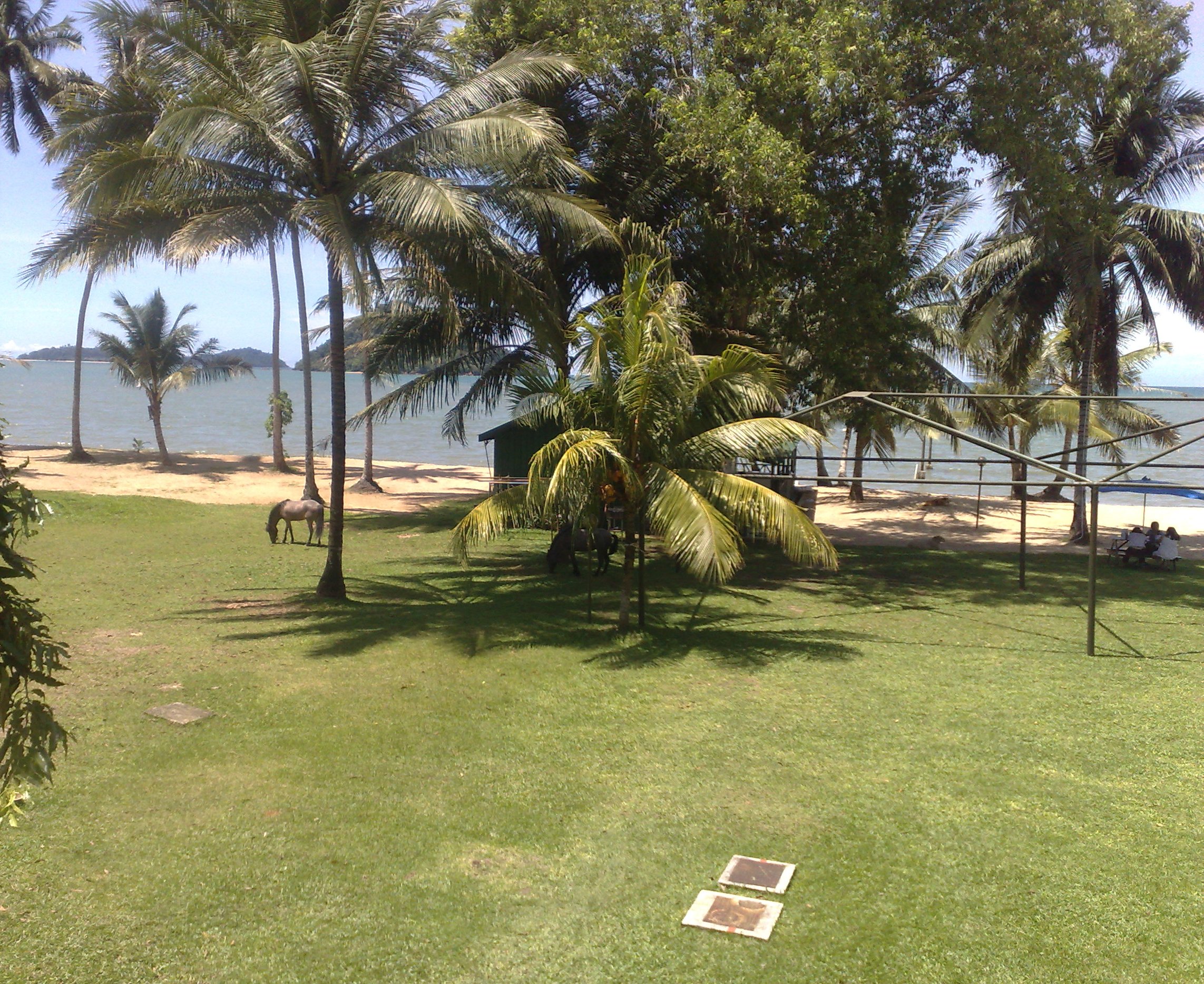 SANDAKAN, SABAH - MALAYSIA
In 1987 Developed under the Taman Sibunga recreational project under the Sandakan Municipal Council Administration, a part of the Kebun Cina Forest was developed into the Sandakan Sport Complex & Sandakan Turf Club.
Horse Stables at Sandakan Racecource (See below)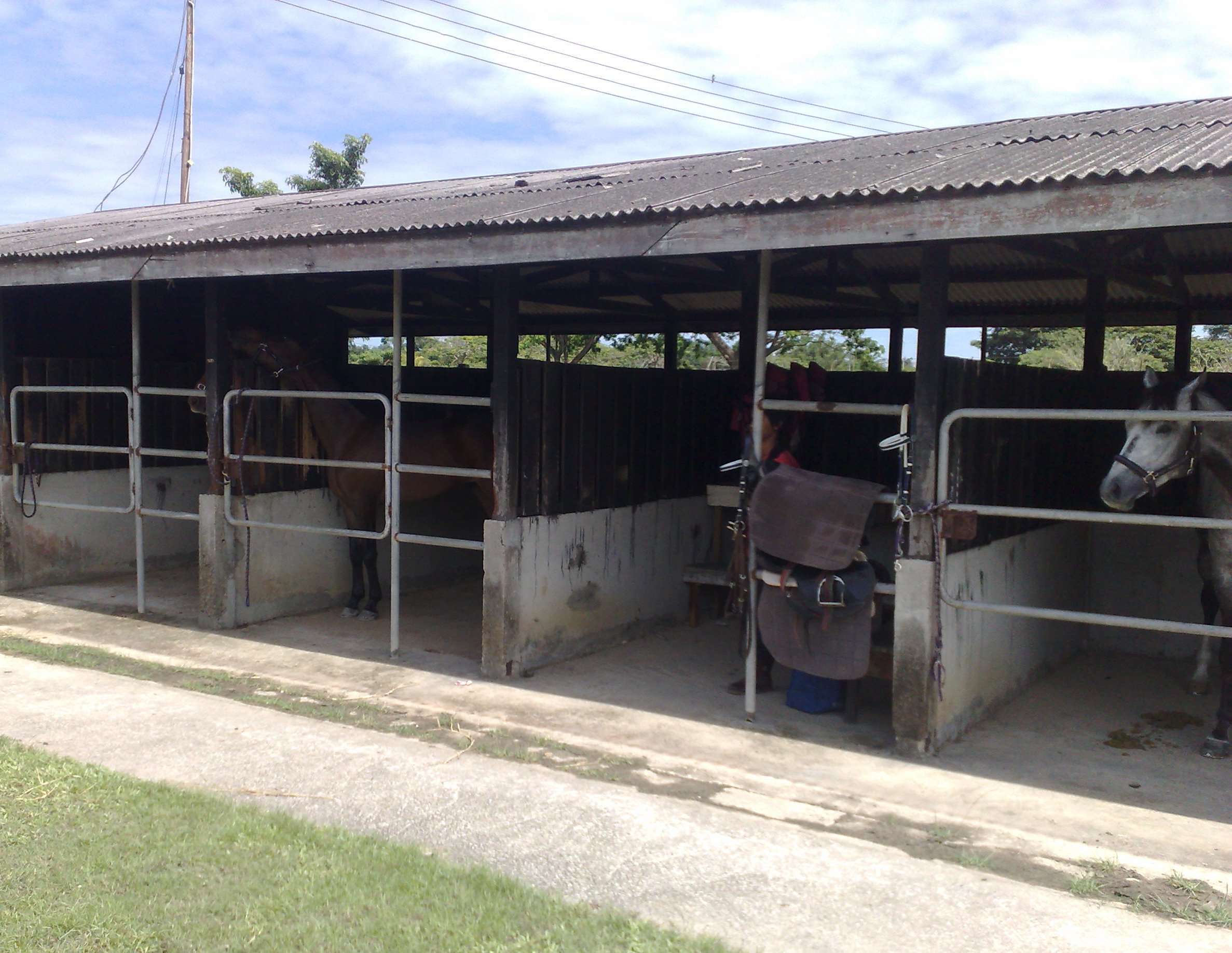 Grandstand at Sandakan Turf Club (See below)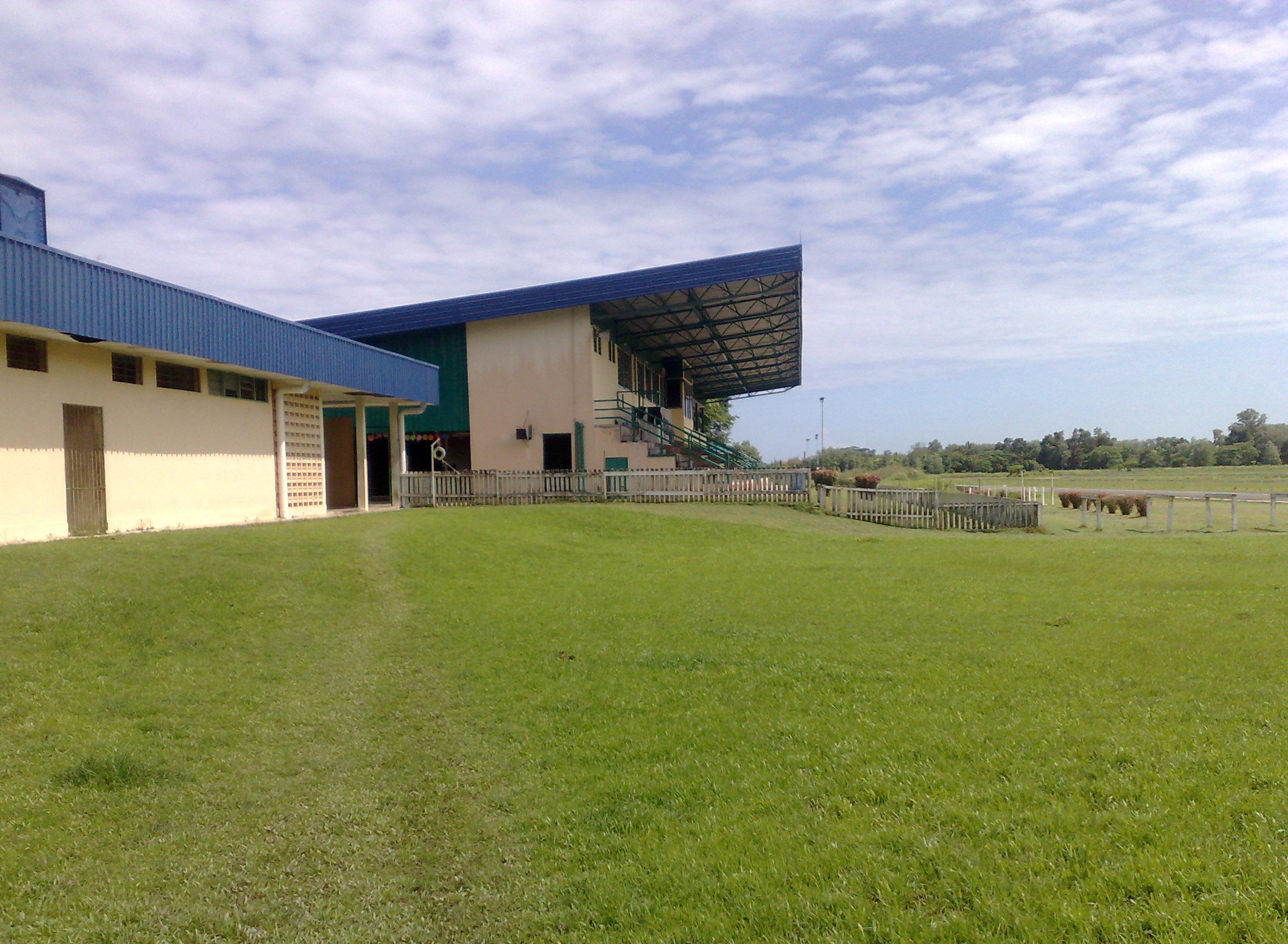 Grass Track at Sandakan Racecourse (See below)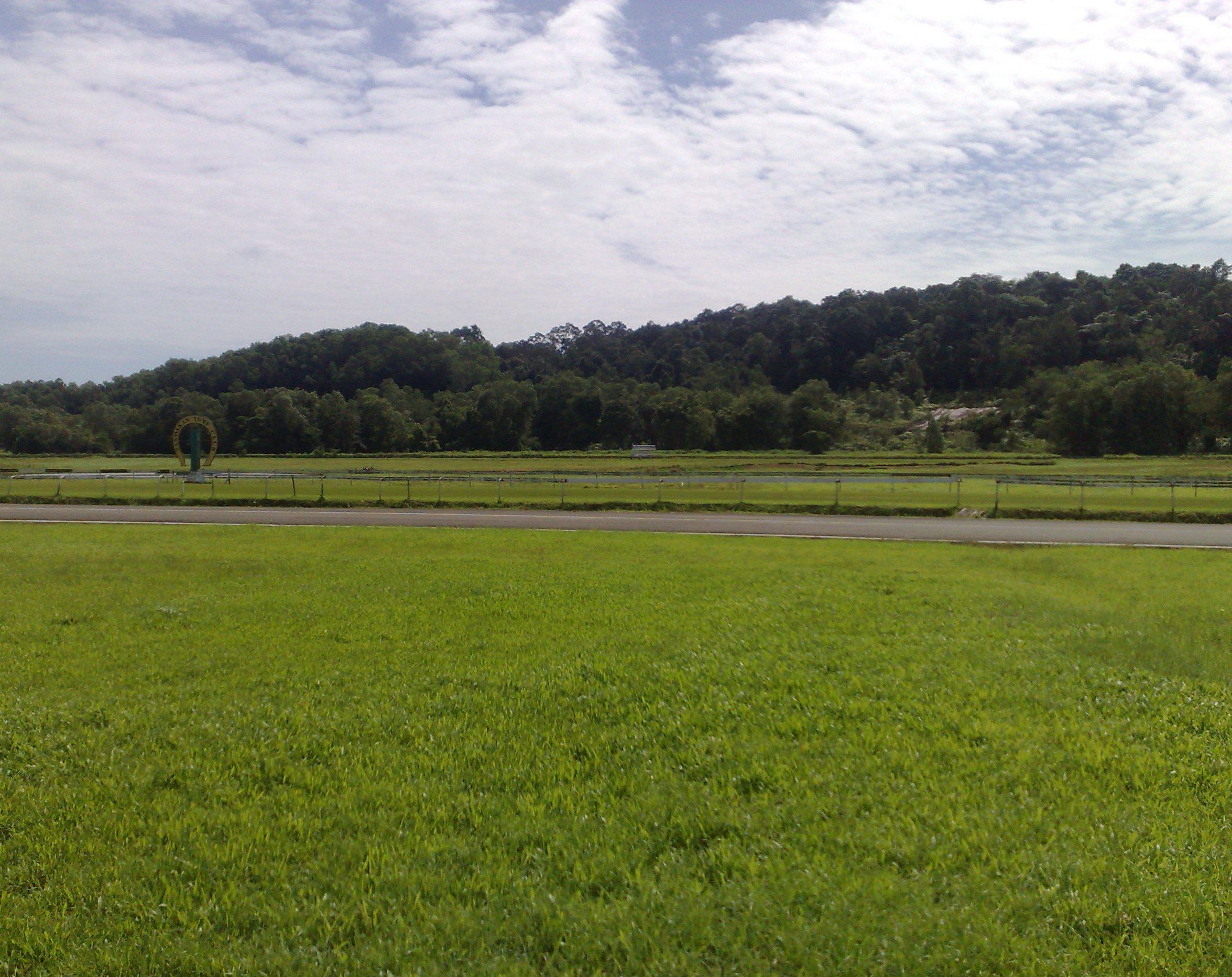 Racing takes place every Sunday at the Turf Club in Sandakan – Well managed and maintained the Club nestles into the Eastern Sabah region like a diamond encrusted in a ring. A beautiful part of the world near to the sea the Racing that takes place is an idyllic afternoon "far from the Madding Crowds" – it's great fun and a true spectacle to behold.
The chairman of the Sandakan Turf Club, Datuk Yap Pak Leong hosted an impressive Annual Dinner at the Club on Friday evening 6th March – I was lucky enough to attend and several long-serving staff (over 10 years) were rewarded with a well deserved 3 months long-service bonus.
As part of the evening's entertainment - karaoke & beauty competitions were in Full swing throughout the night for staff.
Sandakan Stud
So capably run by Ms. Cathy Pua and her daughter Yien Yien the Stud Stands 2 thoroughbred stables Moon Shadow & Abundance and one Arabian stallion, River Oak Summation.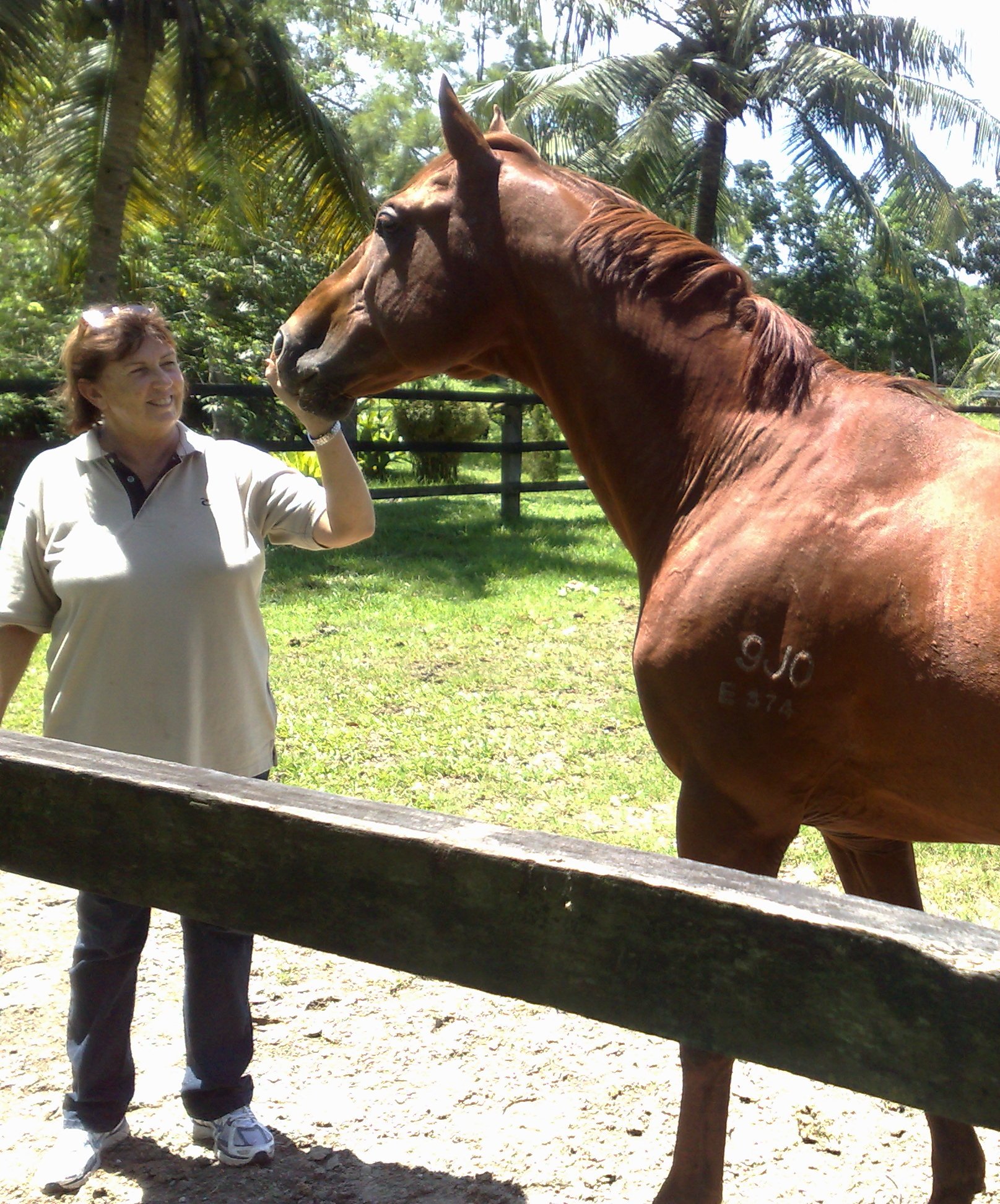 Here we see Cathy Holding Abundance out in his paddock – a lovely chestnut stallion he has already got a select band of mares in foal at present
A great head shot of Abundance (See below)
Abundance has 5 fillies retained by the stud and another 6 for outside breeders.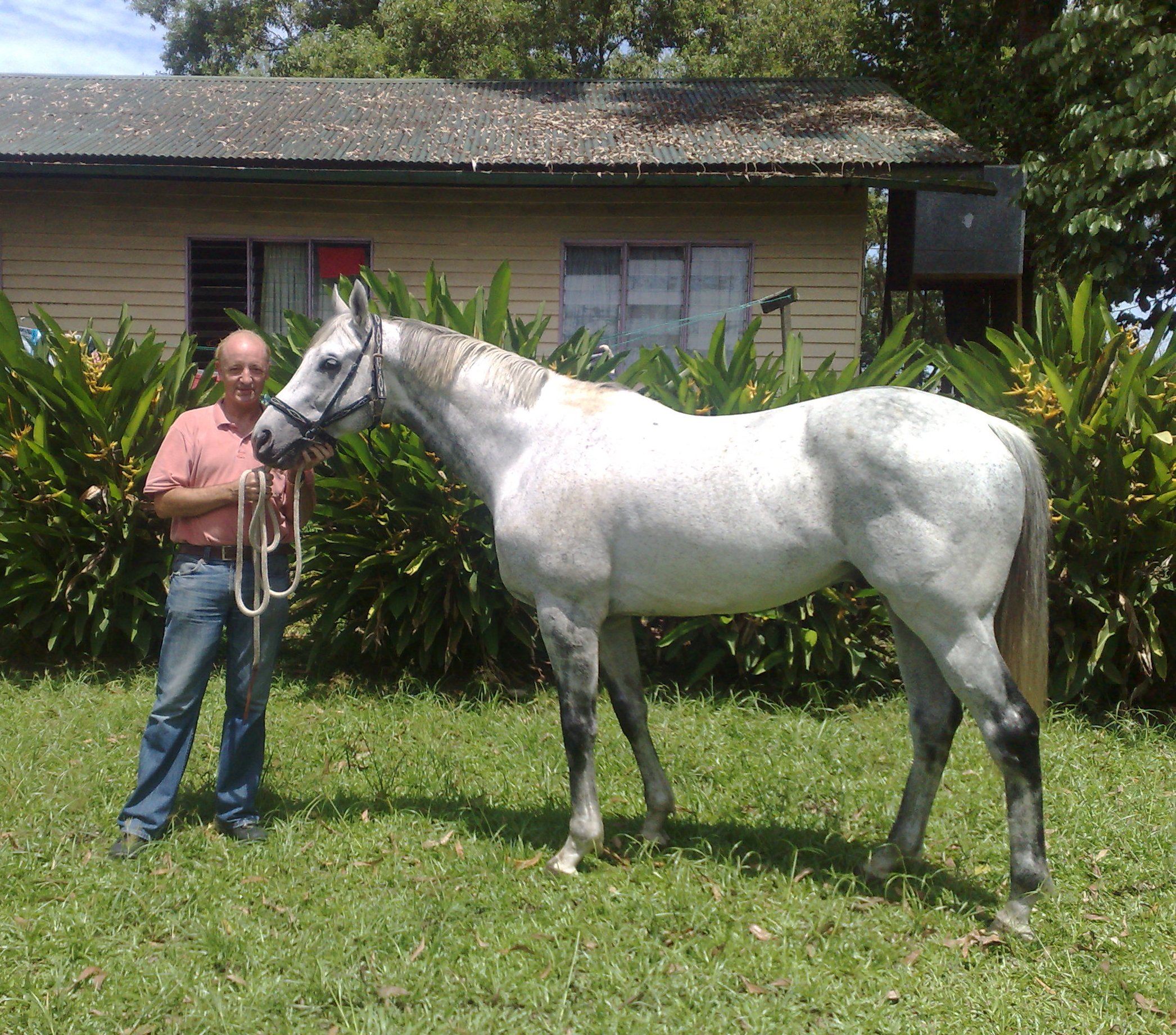 Moon Shadow has 2 colts and fillies that the stud has retained to race and they are excellent types. Two more foals are expected soon (breeding takes place on an all year round basis) and 4 other mares are in foal. Other outside breeders have 2 mares that have foaled and 5 in foal.
Here I have the opportunity to stand up with Moon Shadow for a photo and whilst he's gone a whiter colour as he's got a bit older you can see the strength and great conformation he possesses and why he was able to race success fully in very good company in Singapore and Malaysia. And his lovely foals are brown at present!
The third stallion standing at the stud is an Arabian called River Oak Summation and had been delayed reaching Sabah due to the Equine Influenza (EI) epidemic. He's taken a little bit of time to settle in after his travel plans were delayed but he's just started to serve some mares in early March.
With 7 Purebred Arabian Endurance Mares at the Stud the days of Malaysia breeding their own Endurance horses on Malaysian soil is not that far away.
And there would be no better place for this to happen than in Sandakan with Yien & Cathy Pua. The fantastic support they get from Chairman Datuk Yap Pak Leong is a credit to him and his committee.
The whole operation at the Sandakan Turf Club Equestrian Centre is a really unique, innovative and wonderful accomplishment to be admired greatly by not only Horse enthusiasts but all Malaysians.
Sandakan harbour at sunrise in all it's majesty. (See below)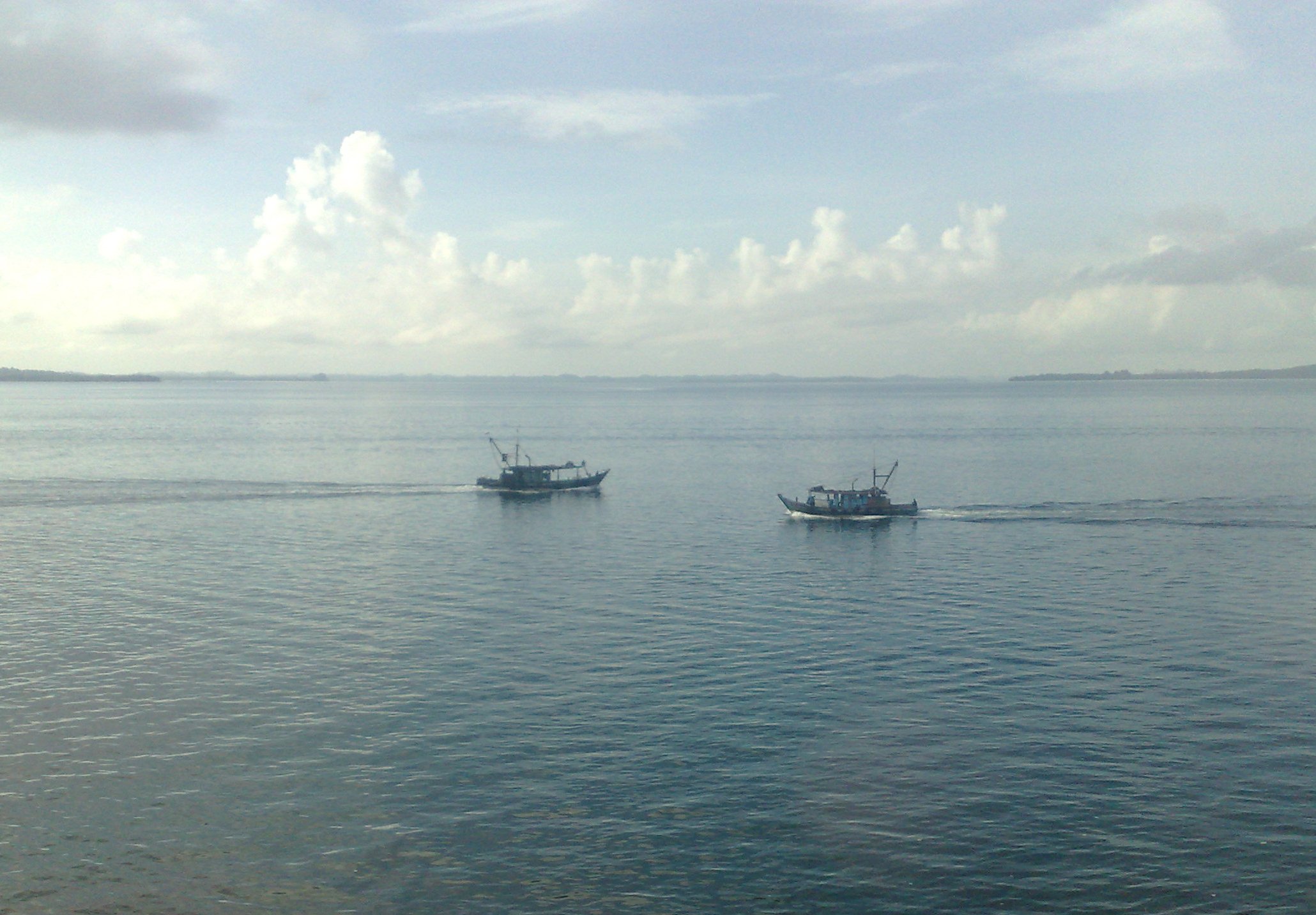 Agnes Keith Teahouse (See below)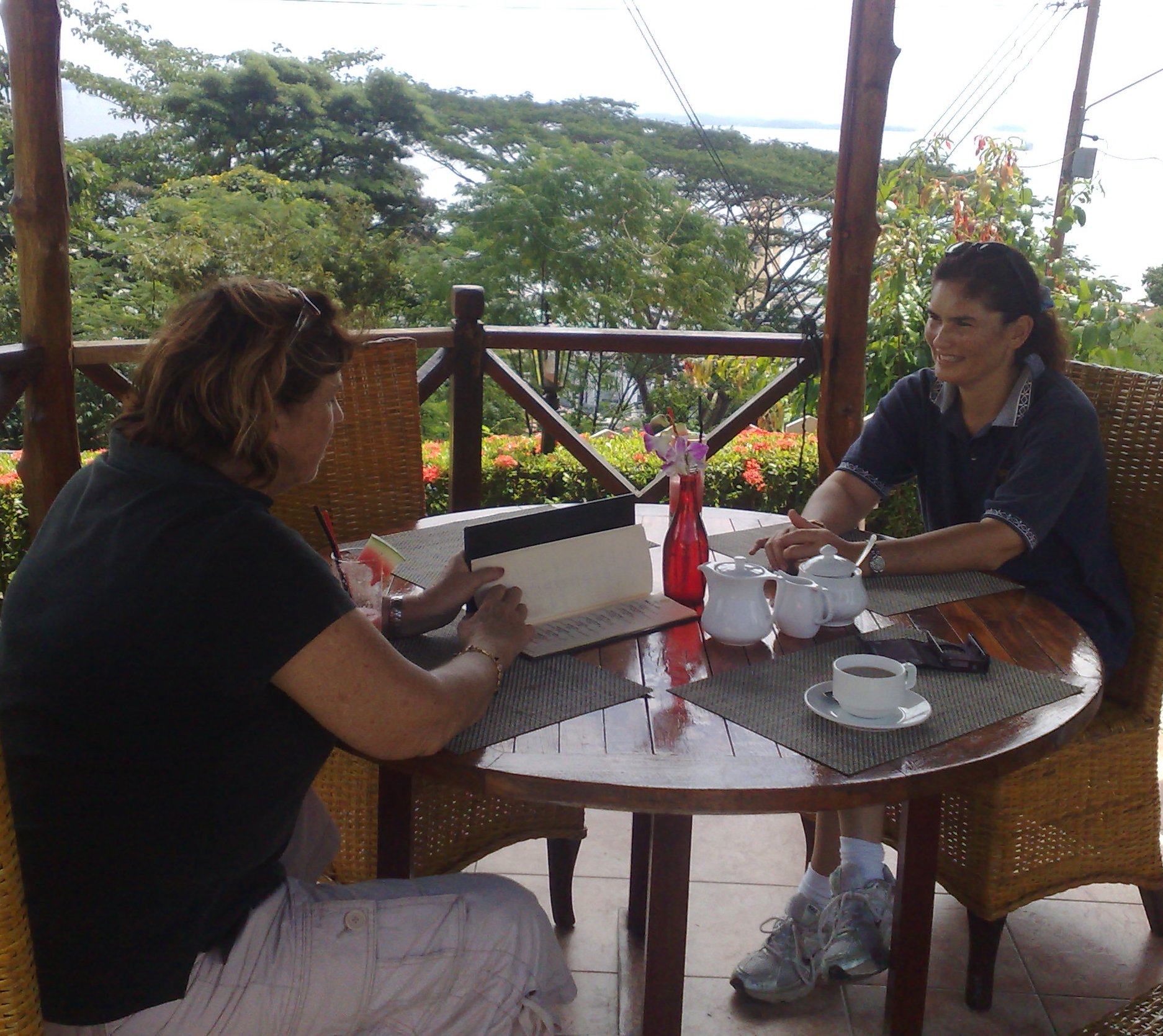 Nestled into Sandakan is the famous Agnes Keith English Teahouse. One of Tattler Magazine's Malaysian Restaurants of the year 2006. You can indulge one self in fantastic Western cuisine fused with Asian spices and herbs.
Their Happy Hours between 9-11pm is a great idea for those that want to enjoy cocktails overlooking Sandakan Harbour at night.
Nearby is Agnes Keith house a restored residence by the Sabah Museum providing interesting insights into the British North Borneo past. Agnes, American born and an accomplished author, was married to Henry, an Englishman who served as the conservator of Forests, Director of Agriculture and Curator for the Government of British North Borneo.
It's worth a visit.
HONG KONG
One of Vetplus's pleasures over the past few years has been to have Nicole Pearson as one of our Staunchest supporters of the Performa Range especially Cool Feed. Here we see her 17 years old gelding Happy King (Charlie) at Beas River Country Club, Sheng Shui in the New Territories, Hong Kong on Monday afternoon, 2nd March.
Performa Cool Feed has been available in Hong Kong now for several years at the Public Riding Schools, Tuen Mun, New Territories being the main centre.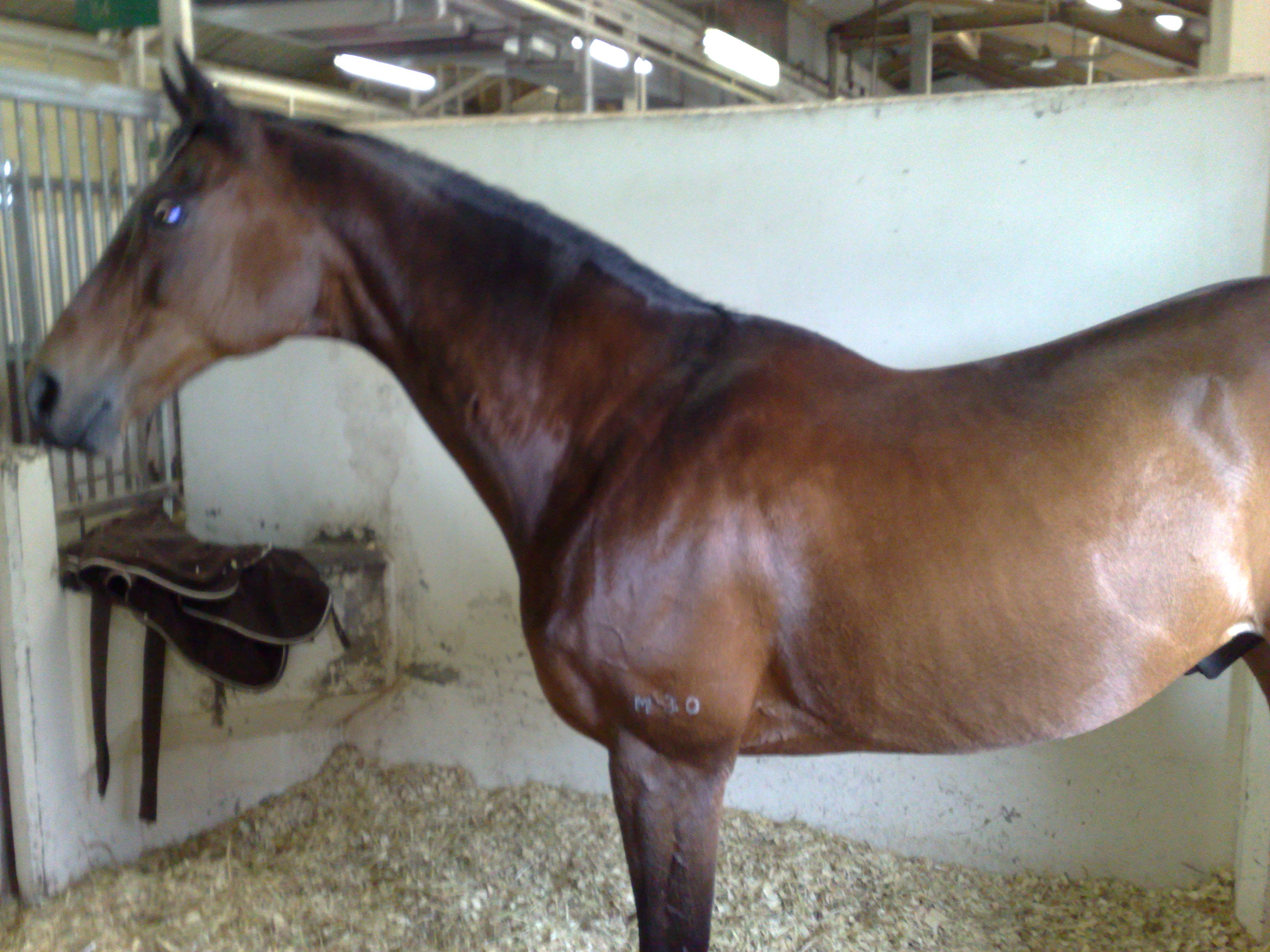 Inside one of the Horse Stables at Beas River. Nicole & charlie (See below)
Beas River Covered Arena – All the facilities provide at Beas River for it's members and their horses are First Class
A row of the stables situated at Beas River, Hong Kong. Beas River Equestrian Centre has Mr. Julian Trevor – Roper from England now as it's Chief Riding Instructor.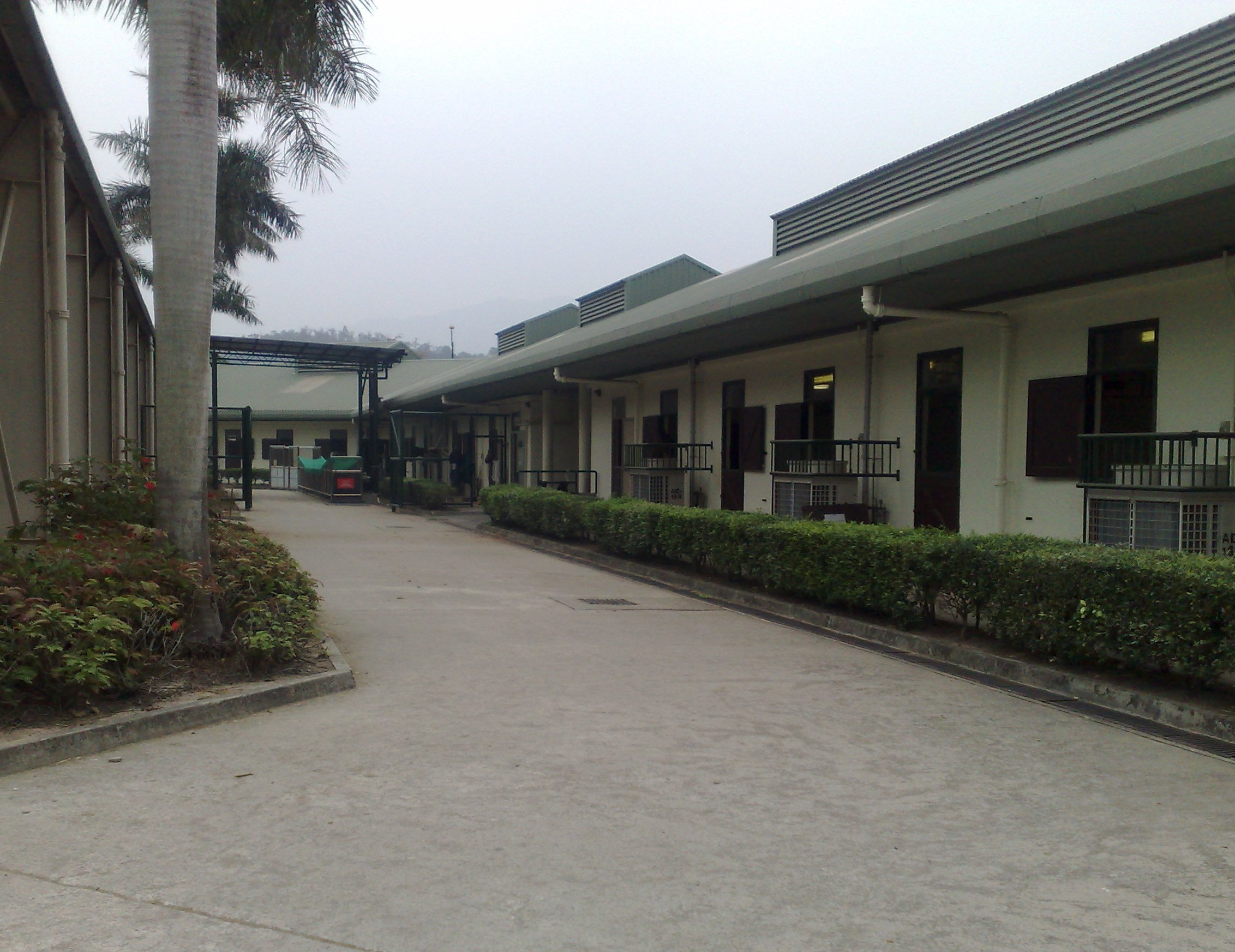 Tuen Mun Public Riding School situated in the New Territorries, Hong Kong provides training & coaching in many of the Horse Riding disciplines. It is managed by Mr. Bernd Knorr from Germany who has a very experienced Horse background in Europe.
Inside one of the Stables Blocks Tuesday 3rd March at Tuen Mun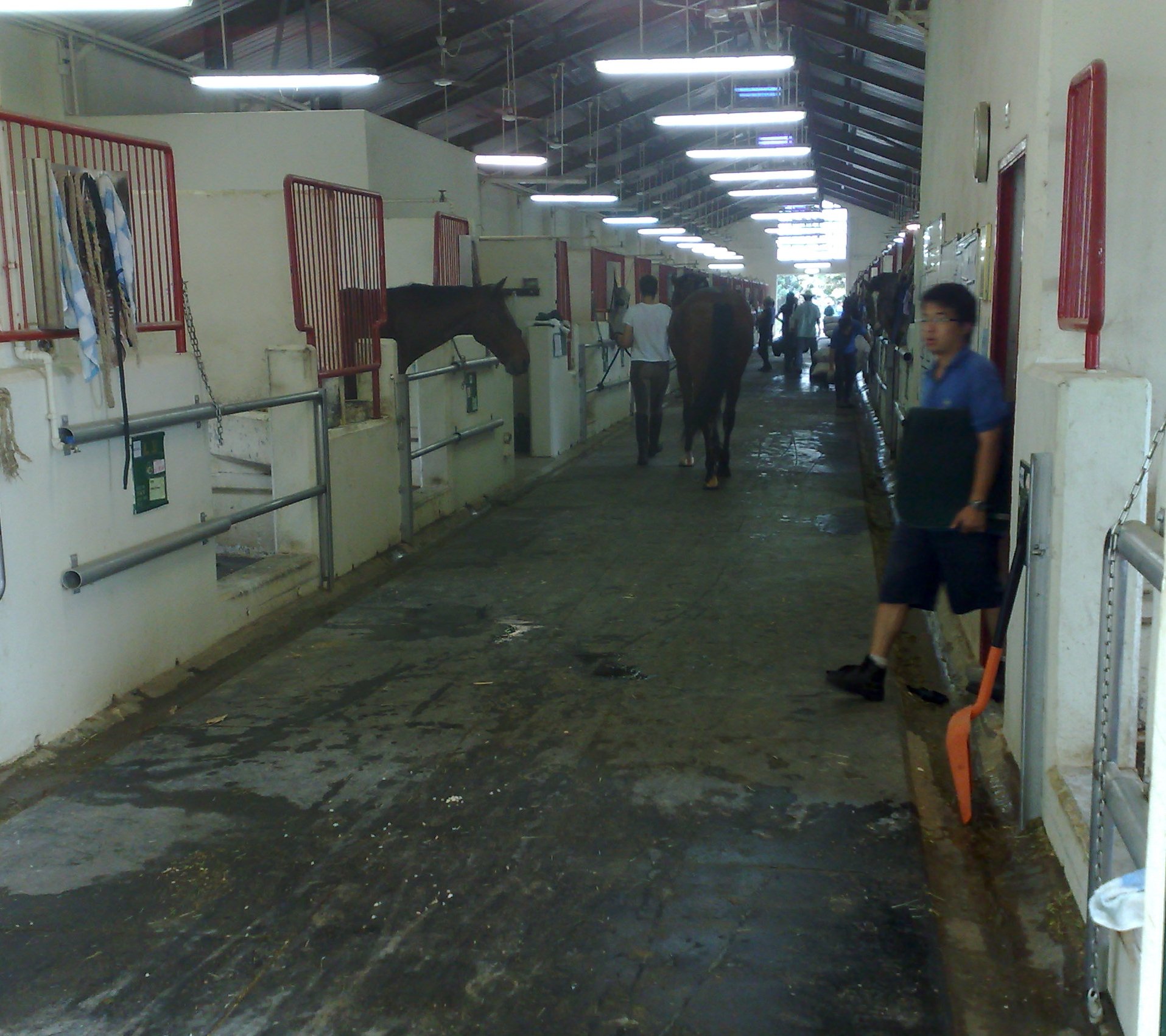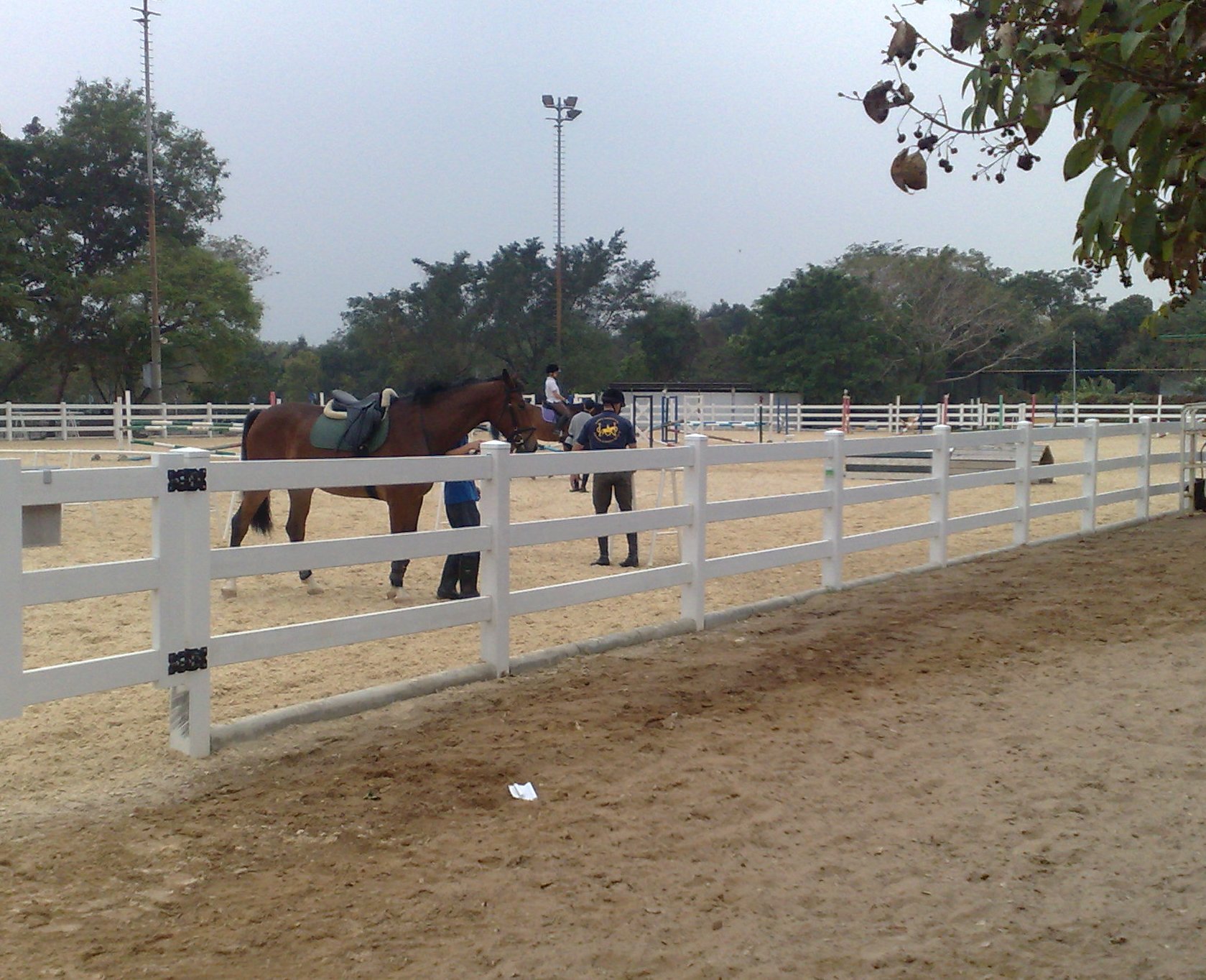 There's always a hive of activity at this Riding Centre from early in the morning until late into the day with a break at lunchtime & early afternoon for some rest for the horses and staff.
One of the Riding Areas at Tuen Mun with High Rise Apartments situated in the background.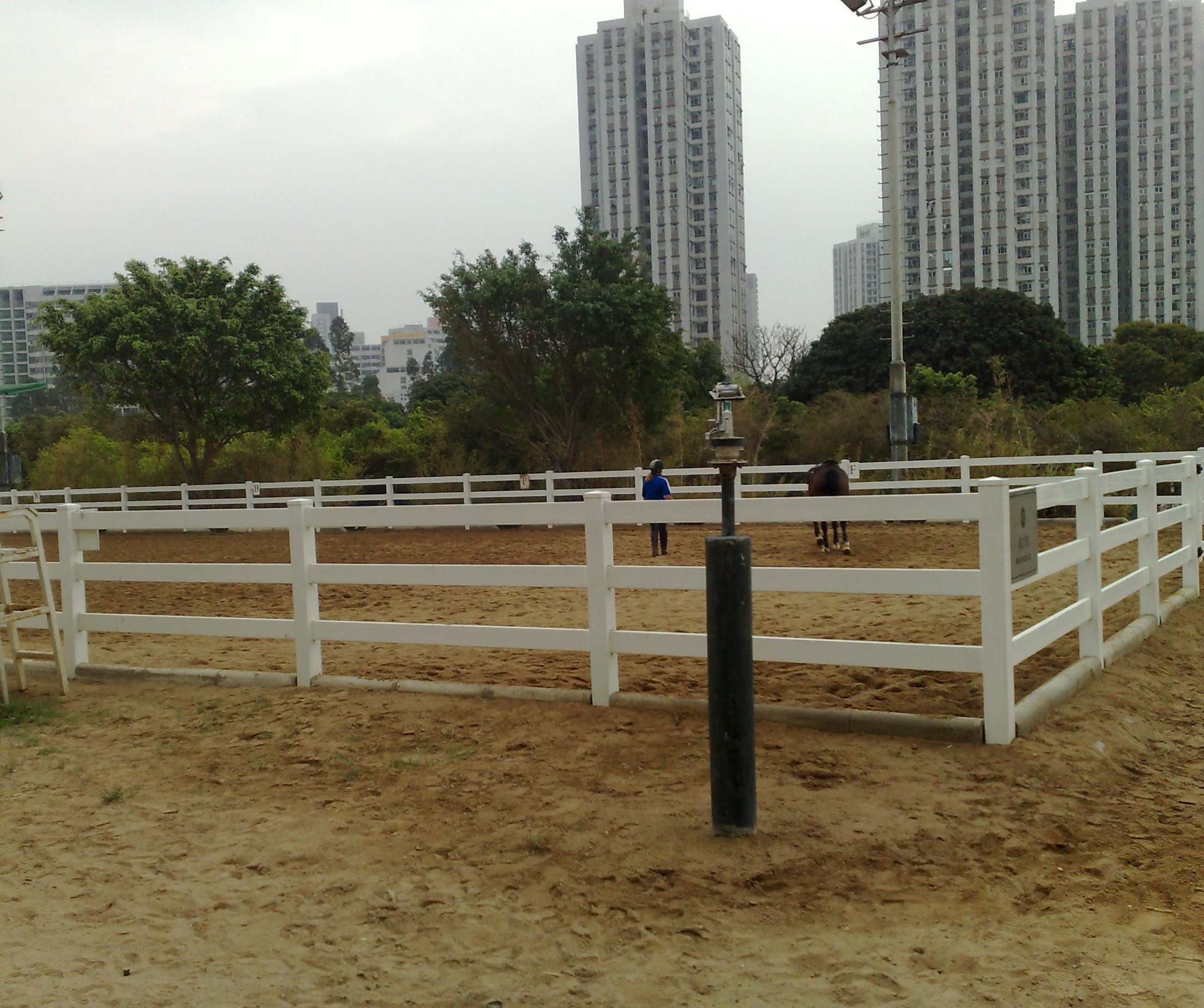 One of the greatest horses to race in Hong Kong in the last 20 years is Fairy King Prawn who lives out his retirement at Tuen Mun.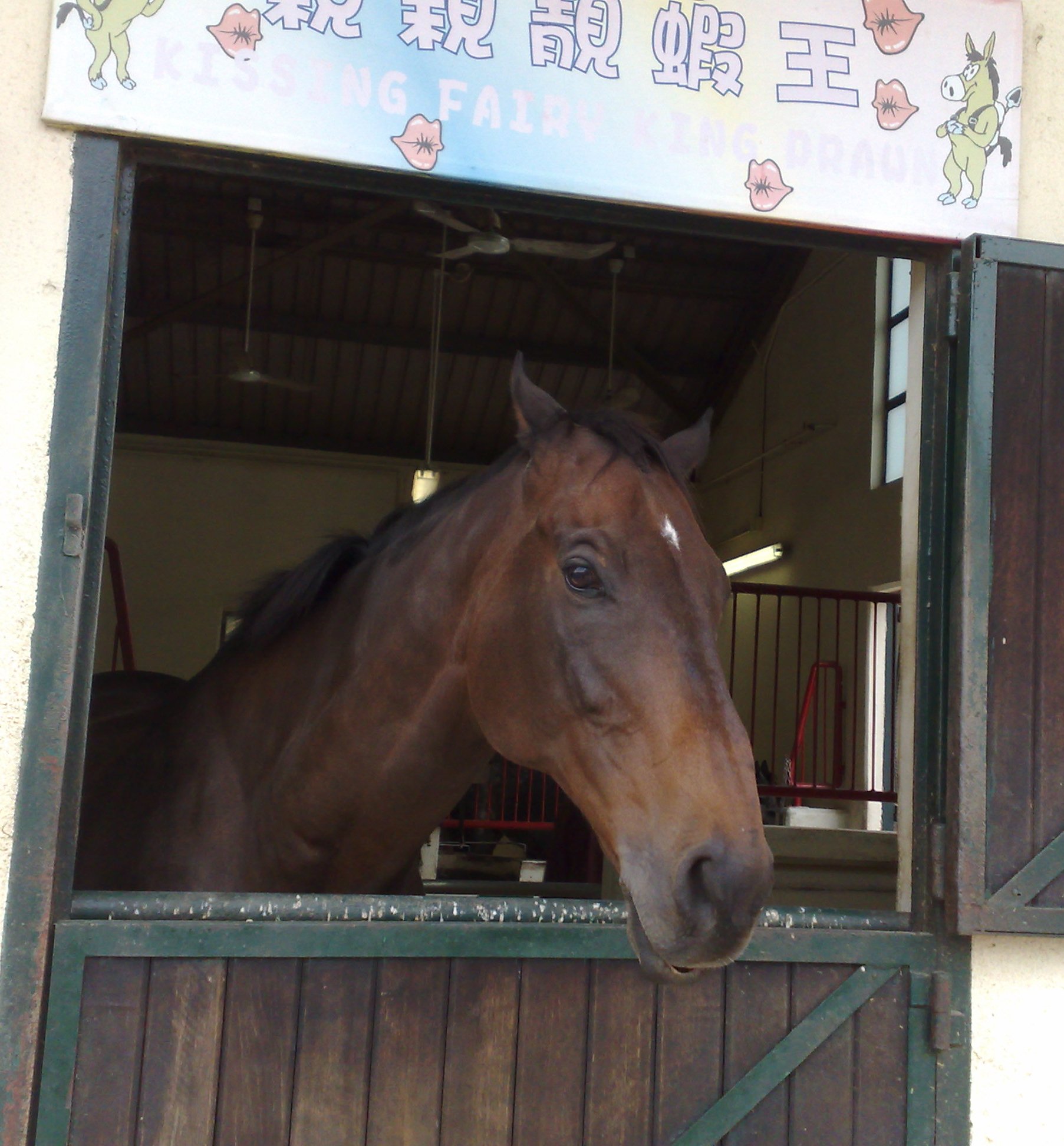 An exterior shot of the Stable Blocks at Tuen Mun Public Riding School.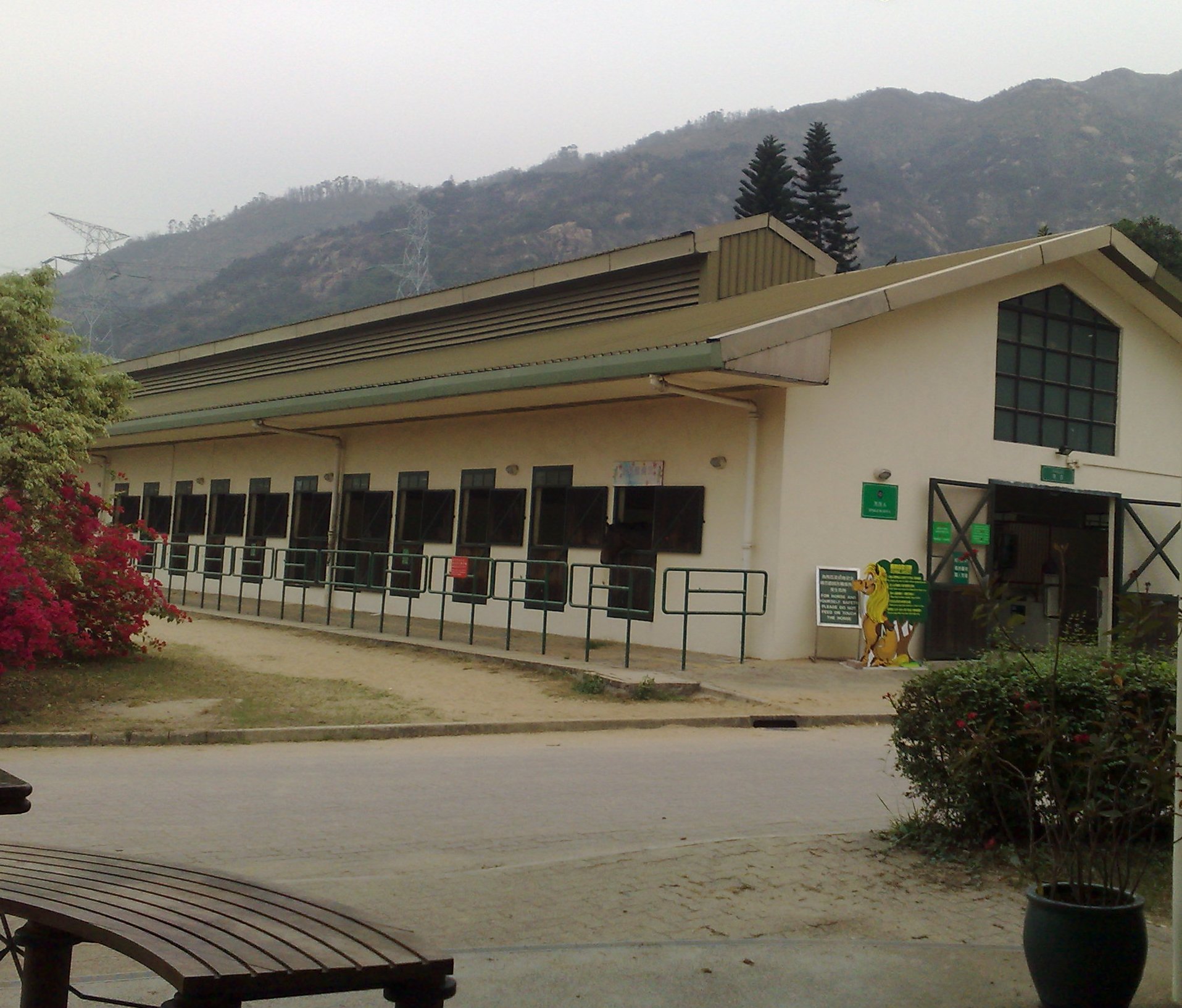 With the background of some China's terrain, Tuen Mun has a fantastically run Riding for the Disabled program operating as well which provides hours of countless enjoyment and therapy for a large number of physically disadvantaged & mentally challenged people, especially children.